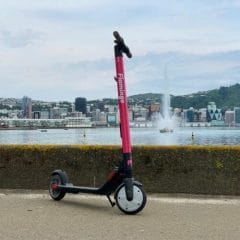 Free 5-Minute Ride on a Flamingo Scooter in Wellington or Christchurch
Flamingo provides electric scooters around New Zealand and Australia. They aim to help people travel around different cities in a fun and safe way while reducing the need for cars on the road. You just have to download their app, and you can pay for the use of the scooter.
Now Flamingo are giving you the chance to enjoy a 5-minute ride free of charge by entering code SAFETY5 into the payment tab on the Flamingo app. On the app, you can also earn points that can be converted into free minutes. You can earn points by taking a Helmet Selfie or by taking fun quizzes like the Wellington Safe Riding Quiz.
This free 5-minute offer is only available in Wellington or Christchurch. To enjoy your free five-minute scooter ride, click the green button below to visit the Flamingo website. There you can find links for the app, and you can read more about the company and where their services are offered!
CLAIM OFFER