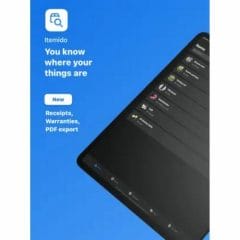 Free App for Managing Your Home Inventory
Itemido: Manage Home Inventory is an app you can download for free for a limited time. Once you have the app, you will be to organise, track and find things easily. You can create a database of items, so you know where each one is, when the warranty ends, and you can scan the receipt so you know where things were bought and when. This app can be used for items in your home, if you have collectables and more.
Click "CLAIM OFFER" to visit the Itemido: Manage Home Inventory app on the Apple App Store. You can then download it onto your device so you can start getting organised. This app has high reviews and, according to the App Store, is ranked in the top 10 productivity apps in New Zealand and other countries, so it is well worth getting while it is free.
CLAIM OFFER