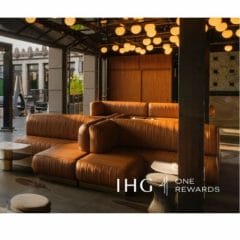 Free Platinum Elite Status Upgrade with IHG Hotels & Resorts
IHG Hotels & Resorts are giving you the chance to upgrade to Platinum Elite status for free. You can claim this offer whether you are an existing HG One Rewards member or if you just sign up now. The Platinum Elite status gives you access to 60% more bonus points for each stay and much more. This offer also gives you the chance to fast track your way to Diamond Elite status too.
Click the green button below to find out more about Platinum and Diamond Elite statuses and their current offer. The link will take you to the IHG website, where you can select your current hotel loyalty program, and you can sign up for HG One Rewards if you are not already a member. Check out the offer today and see if you can get the IHG upgrade.
CLAIM OFFER