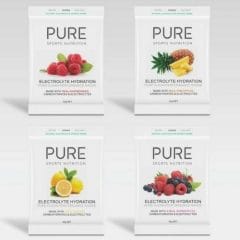 Free Sports Drink Sample Pack
PURE Sports Nutrition are offering their PURE Electrolyte Hydration Pack for free, all you have to pay is the shipping fee of $5. It is a starter pack that includes four sachets of their premium natural electrolyte drink base. Each sachet is a different flavour and makes 750ml of isotonic sports drink.
These sports drinks are best used when exercising for over an hour or when you're doing short, high-intensity exercise. To get this offer, click the button below to go to PURE Sports Nutrition's website. Add the starter pack to the basket and use the code NEWCUSTOMER at checkout. This freebie is only available to new customers.
CLAIM OFFER