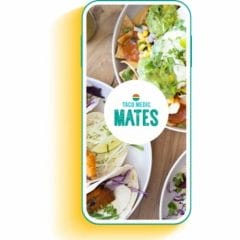 Free Taco from Taco Medic
Taco Medic will give you a free taco if you sign up with their loyalty programme. You will also get a free taco on your birthday, and you can redeem points for freebies too. Every $1 you spend will give you 1 point, and you can build your points over time. Free tacos, who could say no to that?!
Click the green button below to visit the Taco Medic website where you can read more about their loyalty programme, sign up, see their restaurant locations and order online. There are also download links for their app where you see your points earned.
CLAIM OFFER