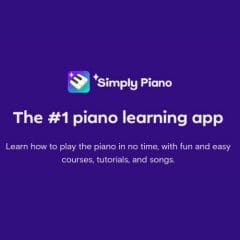 Free Trial of Piano Learning App
Always wanted to learn piano but are not sure where to start? Then you need to know about Simply Piano! This app helps you to learn how to play the piano in a fun way. You will find tutorials, easy courses, piano video lessons, and you can play the songs you love. The app gives you the freedom to practice at your own pace at a time that is right for you.
Click the green button below to visit the Simply Piano website. Once there, you can create an account and start your musical journey with a free trial. The app is available on Apple and Android devices and will work with any keyboard or piano.
CLAIM OFFER