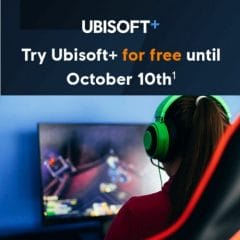 Free Trial of the Ubisoft+ Video Game Subscription
If you enjoy playing PC games, you can't miss this freebie. You can now get a free trial of Ubisoft+ to use on your PC. The trial will last until the 10th of October 2022, so the sooner you sign up, the longer you will get free access. During the free trial, you can play over a hundred games and more.
It is a brilliant offer if you want to give Ubisoft+ a try before you buy, there are tons of games to play. Click the green button below to visit the Ubisoft+ sign-up page. Once there, choose the free trial and fill in your details. You can cancel the subscription at any time, but you must cancel before the trial ends if you don't want to be charged. Please note that the trial is only on offer until October 10th, so sign up now to make the most of it!
CLAIM OFFER