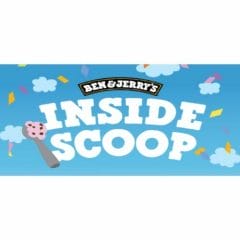 Win One Year's Worth of Ben & Jerry's Ice Cream
If you join Ben & Jerry's Inside Scoop, you can win one of thousands of prizes. There are sundaes and more up for grabs, but one of the biggest prizes is a year's worth of free Ben & Jerry's ice cream! If you love ice cream, that prize would be a dream. To be in with the chance of winning, you just need to spin the wheel.
You can sign up for Ben & Jerry's Inside Scoop today by clicking the green button below. The link will take you to their promotion, where you should enter your phone number. Once you have, you can spin the wheel to win a prize. Enter the giveaway today and enjoy your free frozen treats!
CLAIM OFFER