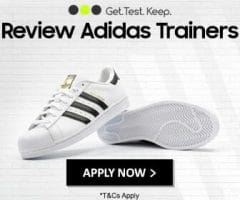 Free Adidas Trainers
GetTestKeep is looking for people to test a pair of Adidas trainers. If selected as a product tester you will receive a pair of trainers which you will then need to provide your honest feedback on and review. In return you will get to keep the Adidas trainers for free!
Review Criteria:
- Value for Money
- Quality
- Selection
- Fit
Apply today by simply clicking the green button below and then filling in your details on GetTestKeep's website. They will then contact you if you are chosen to test them.
CLAIM OFFER