Keep up to date with the latest and best freebies and samples on WOW Freebies New Zealand by following us on Telegram.
By following the WOW Freebies channel on Telegram you can get notifications on your phone about some of the best freebies on offer in New Zealand. If you prefer you can also follow the channel and disable notifications so you can check Telegram at your leisure.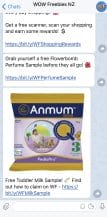 How do I follow the WOW Freebies channel via Telegram?
Following the WOW Freebies channel is super simple on Telegram. Once you follow the channel you can get notifications about great free stuff, samples and deals (great for limited time offers!).
Download the Telegram app for free from the App Store or Google Play.
Create your free account on Telegram messenger and enable notifications (so you can get alerts about freebies).
After you have created the account follow the WOW Freebies NZ channel by clicking here or searching for "WOW Freebies NZ".
Once the channel loads simply click "Join" at the bottom of the channel. 😃
What is Telegram?
Telegram is a simple to use messenger service that encrypts messages for privacy and security. It also works across multiple platforms so you can easily access messages on your mobile and desktop computer. You can have your freebie alerts on both your mobile device and desktop!
You can find out more about Telegram here.