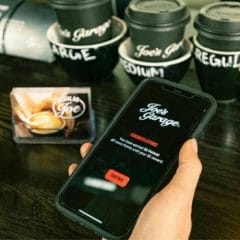 Free Coffee from Joe's Garage
Joe's Garage has created a loyalty app, and if you download it and sign up with them, you will get a free coffee! Just by signing up with the Regular Joe app, you will get a $5 reward for every 100 points earned, a gift on your birthday, access to local offers and your free coffee. It is a brilliant app, and the more points you earn by buying with Joe's Garage, the more rewards you will get.
Click "CLAIM OFFER" to visit the Joe's Garage website. Once there, you can read more about the loyalty app and find the download links for your device. The app is available on Apple and Android, so download it today to get your free coffee!
CLAIM OFFER