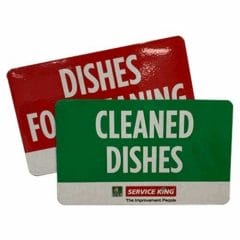 Free Dishwasher Magnets
Does the dishwasher cause arguments in your home or business? Do clean and dirty dishes accidentally get put in the same load? If so, you need to order these free dishwasher magnets. Service King is giving away free dishwasher magnets, one reads "Cleaned Dishes" while the other reads "Dishes for Cleaning". It is the perfect way to avoid confusion and arguments!
Order your dishwasher magnets by clicking the green button below. The link will take you to the Service King offer page, and once there, fill in the online form with your details. Your magnets will then be sent to your door. Order your magnets today before they go!
CLAIM OFFER