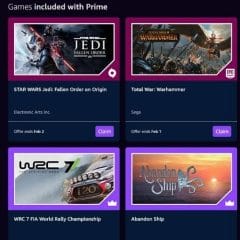 Free Games & In-Game Content with Prime Gaming
If you are an Amazon Prime member, then you can enjoy free games and in-game content with Prime Gaming. As a member, you will receive free games and exclusive game content every month. When you visit Prime Gaming online, you can see what games and content are available and how long you have to claim the offer. At the time of writing you can enjoy a Fall Guys Bundle, a Star Wars game, and more.
There is a game for everyone so, to see what is available this month, click the green button below. The link will take you to Prime Gaming. Once there you can just click claim on what offer you would like to enjoy. If you are not a member, it is easy to sign up so you can claim these offers too!
CLAIM OFFER