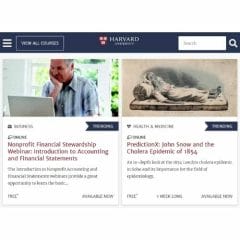 Free Harvard University Courses
Learn something new by taking a free course. Harvard University are offering over 100 free online courses. There are lots of different courses available including, Health Effects of Climate Change (7 Weeks), Women Making History (8 weeks), and more. Each subject has a unique syllabus and course length.
Each course is free however, you can upgrade if you would like graded assignments and certificates. You can see the cost of the extras and upgrades on the course page. If you just want to learn something new, then the free option is perfect.
To check out the catalog of online free courses, click the green button below, and once on the Harvard University website, you can see which courses are available.
CLAIM OFFER