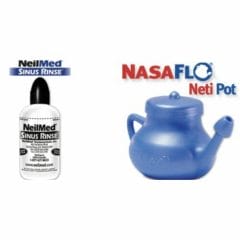 Free Neti Pot or Sinus Rinse
If you, your parents, spouse or child have been diagnosed with cystic fibrosis, you can get a free NasaFlo Neti Pot or NeilMed Sinus Rinse. NeilMed is giving away the free items, and to get one, you need to complete their product training application, watch the video and complete the questionnaire.
Click the green button below to visit the NeilMed Facebook page, where you will find the free offer and information about each product. Once there, click the grey button to request your free item and follow their instructions. This offer is for new users only, so if you have requested one of their freebies before, you can't get one again. Get your free NasaFlo Neti Pot or Sinus Rinse before they go.
CLAIM OFFER