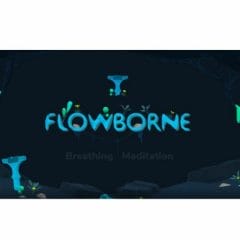 Free Breathing Meditation VR Game on Oculus
Flowborne is a breathing game created by psychologists to help players reduce stress and relax their minds. During the game, you place the controller on your belly, which allows your breath to move you through the game world. When you inhale, a magical path forms, and when you exhale, you move forward. There are 24 meditative journeys, and each one takes you through soothing environments.
It is the perfect game if you need to relax and let go of worries and stress. Give it a try for free and see if it works for you by clicking the green button below. The link will take you to the Flowborne - Breathing Meditation game on the Oculus store. This game is best played sitting, and it supports Quest, Quest 2, and Oculus Touch.
CLAIM OFFER